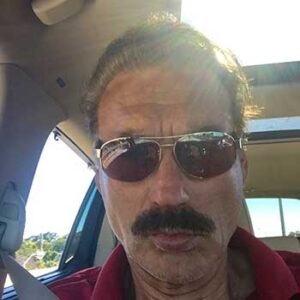 Ken Bungarda
Originally from Berkeley Heights, N.J. After receiving numerous nationwide scholarship offers to play football, he signed with the University of Missouri 1977 – 78.
He was drafted by the Cincinnati Bengals as a defensive lineman in '79. After spending his first year in the CFL with the Toronto Argonauts and the Edmonton Eskimos, he then signed on as a free agent with the San Francisco 49ers in '80 – '82., where he was an offensive lineman. Ken played on the NFL Super Bowl XVI Championship team in 1981.
Ken played for the 49ers against the New Orleans Saints on December 7, 1980. During that game, which would come to make NFL history, San Francisco staged the biggest comeback in an NFL regular season game to win 38 – 35 in overtime play (a 28-point comeback). This game established the 49ers as the team America knew throughout the 80s.
B.A. 1977, 1977-78, 1982-83 San Francisco University/University of Missouri

Experience Manager Trading Accounts – for 25 years for high net worth clients on a proprietary basis

Systems developer 1995 to present.

Corporate Yacht Club, 2002 to 2004: Trading systems (Bonds, SP) developer.

Stock Broker, Montauk Financial 2001-2003

Balboa Medical Transport 1999-2000 Trader in Equities

Equitable-AXA Financial 1998-1999

Dean Witter 1997-1998

California Life Insurance License

Series 7, 63, 65, & Life Insurance Licenses, Series 3 (commodities)

San Francisco 49ers,

Drafted NFL Cincinnati Bengal's 1979 Professional football player 5 years, CFL, NFL, USFL

Member of NFL Super Bowl SAN FRANCISCO 49ERS TEAM XVI (1981)

California Contractors Lisence,1987-2003, Custom Home Builder

Investments and stock analysis with clients in the insurance business Trading in U.S. bonds, options, futures and stocks

Professional Affiliations United States Tennis Association

Ken started trading stocks in 1982 and quickly learned technical analysis as a way to increase his success as a trader. He became involved in NINJATRADER and TRADESTATION in 2003 and he then became fully involved in ES Mini, Crude Oil, trading and 30 year bond/treasuries system development using various trading and analytical tools.
Since becoming involved with systems development of CME products for both NINJA TRADER and TRADESTATION, Ken has developed hundreds of trading and custom systems-based designed algorithms, with numerous short-term trading algorithms and indicators that are designed for the type of short moves that are Crude Oil, ES Mini, NASDQ and Euro futures trading markets, consistent with currency markets trading and futures trading.


December 7, 1980. The San Francisco 49ers make the greatest comeback in NFL regular play history. They came back from 35 – 7 from m the New Orleans Saints to take the game 38 – 35 in Overtime.